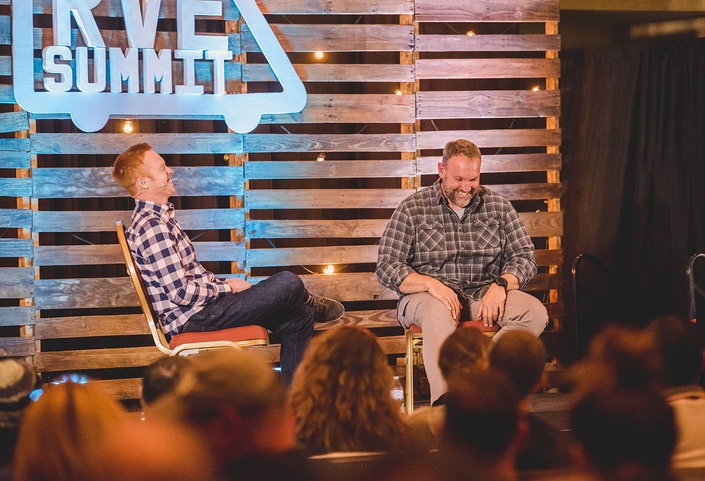 2020 RV Entrepreneur Virtual Summit
A virtual conference experience for RV Entrepreneurs
Watch Promo
When you think full-time travel, it's easy to picture sipping tropical drinks in coconuts under palm trees, picnicking next to rushing rivers flowing past staggering mountain peaks, or driving with the open road stretching out for miles in front of you.
At least, that's what we pictured.
But every day as a traveler doesn't look like that.
Most days look like this:
Sitting inside working on a laptop…alone.
We spent our first two years of travel just like this. Sure, we met up with friends and family across the country during our travels. But we didn't have a community. People who got it, who understood our lifestyle and our struggles.
We were lonely.
We didn't know anyone else who was crazy enough to attempt traveling full-time while running their own business. Call it location independence, being a digital nomad or an "RV entrepreneur." We were doing it alone and knew we needed a community—so we built one.
Heath started The RV Entrepreneur Podcast and Facebook group—a way for us to connect and learn from other people running businesses from their RVs. Finally, we were meeting other people who were not just traveling, but trying to build and run a business on spotty wifi in between hikes at national parks.
We were making friends, but it was all online. We still felt lonely.
A friend suggested we host a conference for RVers like us.
"A conference? RVers don't have conferences. They have rallies and meetups and shows."
But our fellow RV entrepreneurs encouraged us, some of them even offering to speak and share their stories. All we had to do was plan the weekend.
And so was built the RV Entrepreneur Summit.
We found our people.
People who understood why we quit our jobs and moved into an RV. People who had also parked in Starbucks parking lot mooching off the free wifi because they needed to make a video call and people who woke up early to get in a few hours of work done before spending the rest of the day kayaking down a river.
Together, we spent the weekend listening to speakers share their stories from the main stage and teach their craft in workshops. We connected over dinner and campfires and on sunset hikes.
We met our best friends that weekend.
So we hosted another RVE Summit.
And another.
Growing each year by over 100 attendees. And 2020 will be our fourth annual RV Entrepreneur Summit.
The RV Entrepreneur Summit is a business conference for RVers. The four-day event consists of main stage talks from experienced entrepreneurs, workshops to learn practical business skills, and meet ups led by fellow attendees on the topics that interest them most—from real estate investing to yoga to van life.
Most of all, the RVE Summit exists to give fellow RVers what we craved so much during our first years on the road.
Community. A place to belong. To make friends. And to walk away equipped to run a thriving business on the road.
Update:
Due to the COVID-19 pandemic, we have moved our entire conference experience online This was a difficult decision, but one small way we can help keep our attendees safe.
Over the course of this past week we have set up a completely virtual conference experience with livestream keynotes, panels, and workshops. While it won't be the same as our previous in person RVE Summit, we're going to do our best job we possibly can to create an amazing online experience.
With a virtual ticket you'll be able to access every one of our main stage speaker sessions and workshops through live video & QA. Plus we'll include videos of attendee-led meetups and a few other bonuses as well.

2020 Virtual RVE Summit Speakers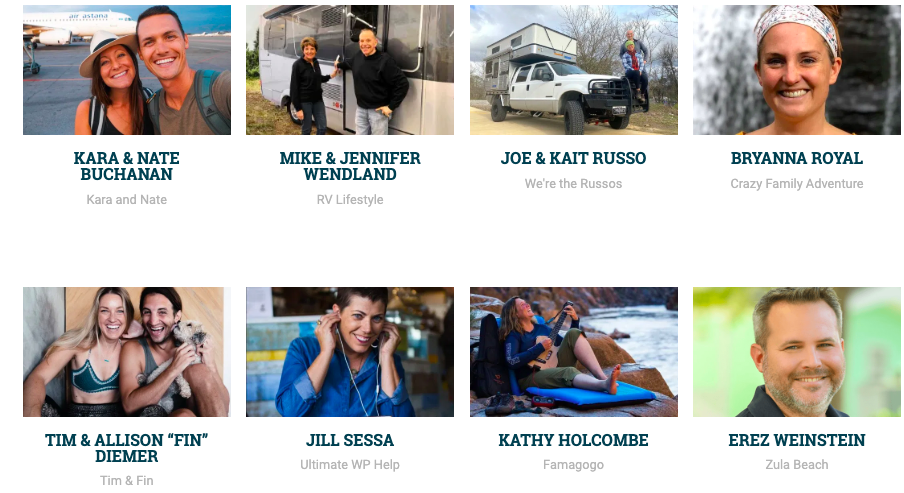 About Us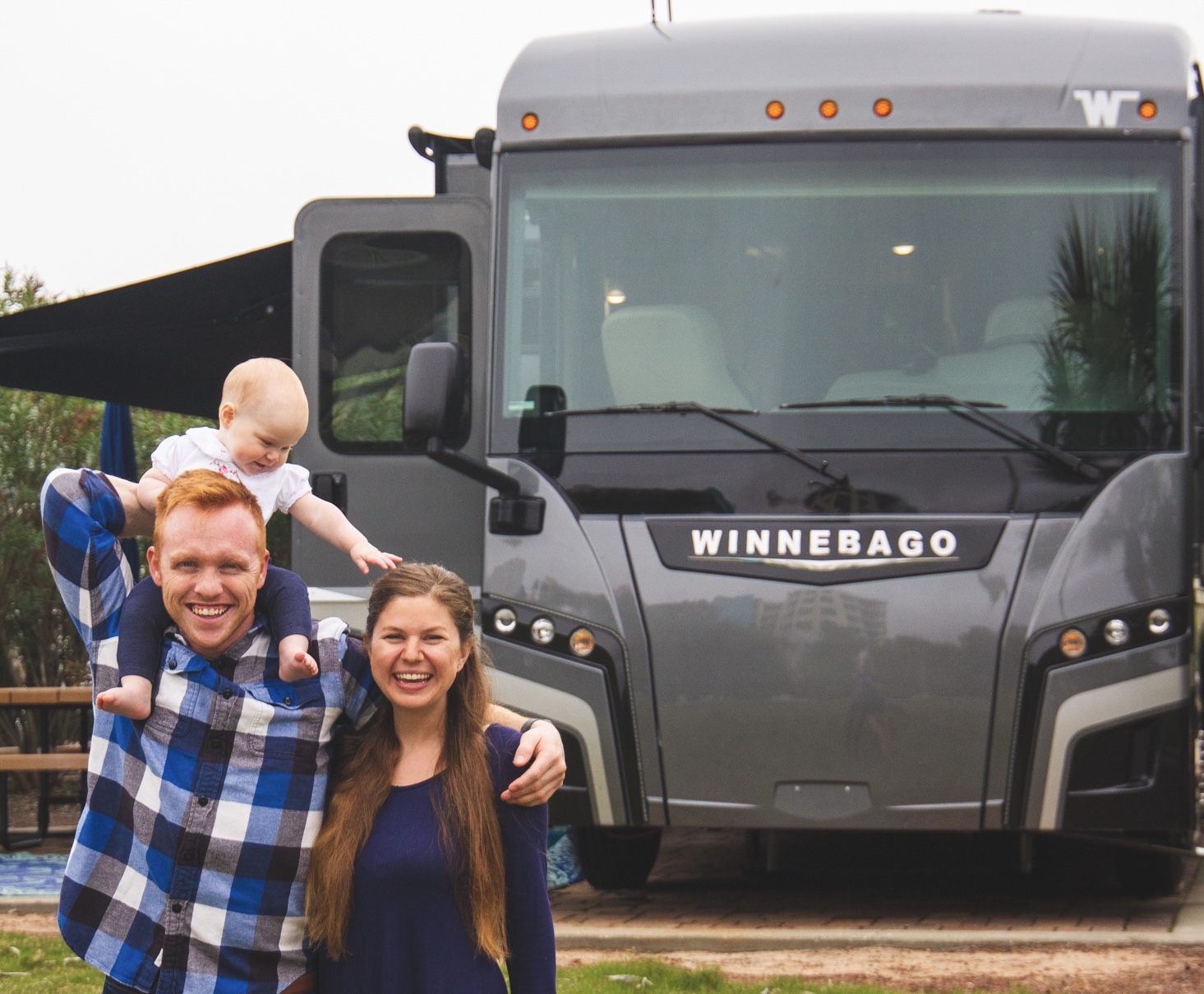 Heath and Alyssa Padgett have been blogging for nearly a decade.

They always wanted to make money as writers, but for years they struggled to make ends meet, blogged as a hobby, and wondered how in the heck anyone actually made money blogging.
Today, Heath & Alyssa make a full-time income from their blog using many of the strategies you'll see in this course. Alyssa wrote the best-selling book, A Beginner's Guide to Living in an RV. Their annual RV Entrepreneur Summit is sponsored by brands like Winnebago and they partner with dozens of brands in the travel space as affiliates.
They've tried many different ways to make money as bloggers, with varying levels of success. In this course, they share what they've learned, how monetizing a blog works, and strategies to make it work for any blogger.
Our RVE Speakers Will Share How to:
Monetize & Grow A Youtube Channel (with Kara & Nate)
Charge the Right Amount for Your Product or Service (Joe & Kait Russo)
Create Systems & Processes in Your Business (Dani Schnakenberg)
Effectively (and Ethically) Outsource (Jill Sessa)
Find, Buy, and Manage Short Term Rentals from the Road (Erez Weinstein)
Create & Deploy New Business Ideas Using Agile Thinking (Dometic team leadership)
Start & Grow a Business During Times of Uncertainty (Kathy Holcombe)
Launch a 7 Figure Amazon Business (Tim & Fin)
Turn Your Blog into a Profitable Business (Alyssa Padgett)
Navigate Partnerships with Brands as a Content Creator (with Winnebago, Camping World, & Kathy & Abby Holcombe)
Get Started with Your Virtual Business (Bryanna Royale)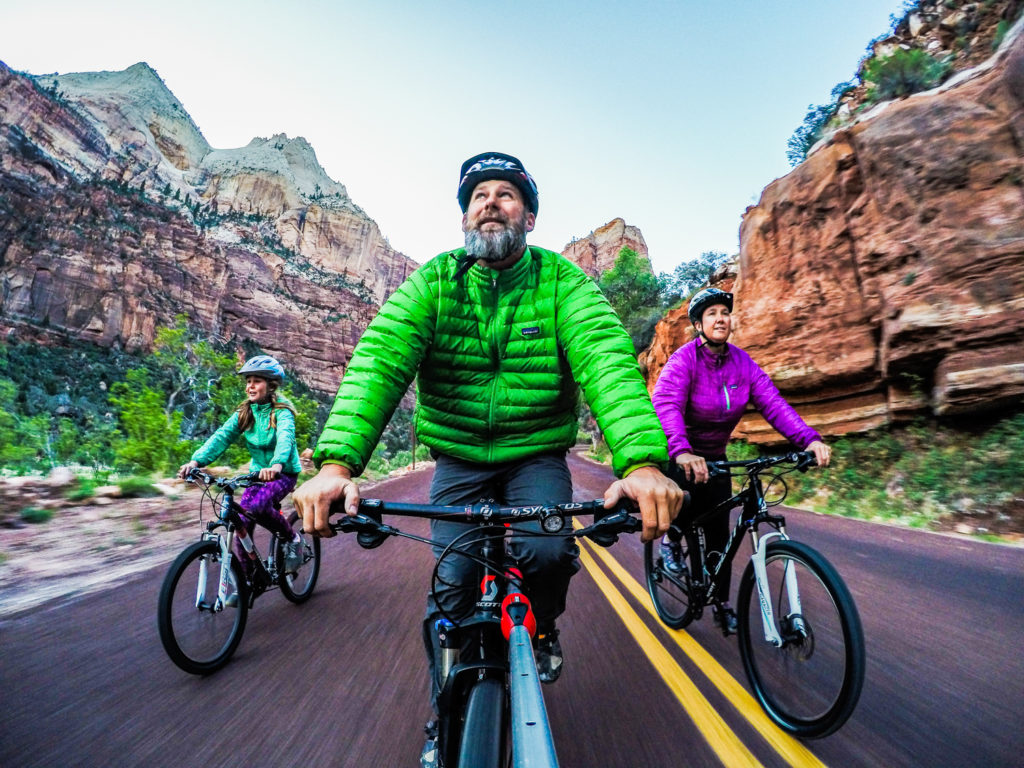 "We came to the Summit excited to share our experiences shifting our brick and mortar photography business to a road worthy endeavor and hopefully encourage and inspire others to take the leap into full-time RVing. But we walked away with so much more, a feeling of a shift of momentum that occurs when a fire has been lit from within."
- Kathy & Peter Holcombe, Keynote Speakers
Frequently Asked Questions
How long do I have access to the course?
How does lifetime access sound? After enrolling, you have unlimited access to this course for as long as you like - across any and all devices you own.
What if I am unhappy with the course?
Refunds will be available up to 30 days after purchase.
When will I be able to watch the sessions?
The conference itself ends on March 22nd. Every video will be available for replay by April 4th!
I'm attending the Summit in real life, do I need to buy a virtual ticket too?
Nope! As a Summit ticket holder, we will give you access to all replay videos. Check your email for details.
Where can I see an exact schedule?
We have a full hour by hour schedule inside of this teachable course. Our live stream kicks off on Friday morning (3/20) and will continue through Sunday afternoon.
Can I just watch live or will there be replays?
Replays will be made available immediately following the live stream.